Greetings, ladies.
This week is an automatic win due to a very special occasion — Ellen Page's 30th birthday! Ever since Ellen publicly came out as a lesbian in 2014, she has been an unstoppable force in the fight for LGBTQ rights and equality. From spearheading the incredible TV series Gaycation to taking down bigoted politicians across the country, the actress continues to impress me year after year. I can't wait to see what Page comes up with in 2017!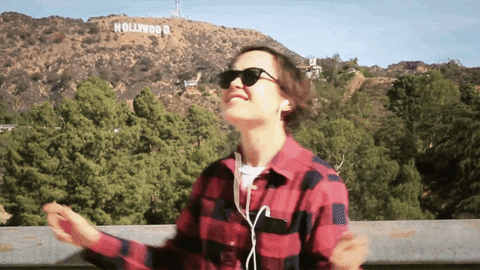 While you can celebrate Ellen's big 3-0 by reliving her best moments HERE and HERE, the star's girlfriend Samantha Thomas honored the special day with a sweet Instagram post. Check it out below!
The best.
Abby Wambach Gets Engaged!
A big congrats to Abby and her fiancée Glennon Doyle Melton!
On Saturday, the lesbian soccer star and Glennon announced their whirlwind engagement on social media. The relationship milestone comes on the heels of the pair getting together this past November.
Take a look at the duo's gushing posts about the engagement below!
As some of you might remember, Wambach and Melton's relationship initially stirred up headlines due to Melton's background as a christian author and past fourteen year marriage to a man. The truth is, Glennon's faith was never an issue in their relationship — the writer has been an outspoken supporter of same-sex marriage for years.
Similarly to Glennon, this will also be Abby's second marriage. The 36-year-old divorced her wife of three years after getting arrested for a DUI, a trauma which she chronicled in her memoir Forward.
I'll keep you posted about wedding details as the couple's engagement unfolds.
St. Vincent Crushes On Ex (?) Cara Delevingne & Debuts Her Horror Movie
Ah, I totally missed this last week. Just a hot second before Valentine's Day, St. Vincent posted a flirty and adorable Instagram post basking in the "cuteness" of ex-girlfriend Cara. The last time these two were spotted together was in December 2016, when they visited a museum and dined out in LA. Now that the singer's ex Kristen Stewart is happily coupled up with Stella Maxwell, it's totally possible these two decided to rekindle their romance. Or… they're just good friends. Given how private the two are, I wouldn't be surprised if it's a while before we get a definitive answer on their relationship status.
Moving on! Remember how I told you about the musician's foray into directing a horror film? The project just premiered last Friday and you can check out an extended clip below.
Thoughts?
Holly Miranda Releases An Emotional Benefit Track In Honor Of Standing Rock
In addition to Holly's gorgeous music, she's also a dedicated and longtime activist. This week, the lesbian singer premiered a benefit track in honor of Standing Rock called Midnight Oil, a song originally composed by Cris Williamson in 1978.
According To Holly, she and other artists like Ani DiFranco have been working on the song since September in a push to bring awareness to the struggle of the Sioux Tribe. The tribute couldn't come at a better time considering protesters were forced to evacuate Standing Rock on Wednesday.
Read Miranda's announcement of the song below:
https://www.instagram.com/p/BQ0nLcZF9A3/?taken-by=hollymiranda
You can listen to the track HERE and purchase it HERE.
Wanda Sykes To Perform At The SXSW 2017 Comedy Festival!
http://giphy.com/gifs/wanda-sykes-x4KgdXHQ5zOSI
If my bank account magically self-replenished itself with ALL THE MONEY I'd definitely book a ticket to see Wanda headline the SXSW 2017 comedy festival. Here at AE. we know just how amazing the lesbian comic is — everything that comes out of her mouth is a gem.
The festival will kickoff March 10 and you can register to participate in the awesomeness HERE. Get it, Wanda!
Article Chronicles The Plight Of Living In Iran As A Lesbian
If you haven't heard of Broadly already, the female-centric site regularly publishes informative and powerful articles on LGBTQ issues. This week the site published a piece investigating what it's like to be a lesbian living in Iran.
According to the woman interviewed for the article, she faces unbelievable homophobia despite being the daughter of an esteemed military official.
In addition to being regularly arrested for no reason, the unidentified lesbian also alleged episodes of senseless torture by police, revealing:
"They tortured me by pouring boiling water on my skin and beating me, especially on the head. [But] more than physical torture, I was subjected to verbal abuse. They kept telling me that I was a 'pussy licker'."
While this is an emotionally difficult piece, I think it's an important read.
Movie Updates! Lovesong & My Life As Zucchini Hits Theaters
Last January,  AE wrote about the Sundance darling Lovesong starring Riley Keough and Jena Malone. The well-received film was officially released on February 17, so go see it and let me know  your thoughts. You can re-watch the trailer below for a little refresher.
For those of you more interested in animated films, the Oscar nominated My Life As A Zucchini hits theaters TODAY. As I previously mentioned, the Swiss movie stars Ellen Page and tells the tale of an orphan (Zucchini) transcending his grief. Watch the trailer below:
Sara Ramirez Calls Out TV Show Over An Insensitive Joke About Bisexuals
Props to Sara Ramirez for speaking out on such an important issue!
Late last week, Sara called out ABC and its show The Real O'Neals for making a terrible joke about bisexuals. The actress, who is a proud bisexual and also played a bi character on Grey's Anatomy, called out the series for perpetuating biphobia.
The offending joke was made by the show's lead character Kenny, who expressed worry that there might be something wrong about his new boyfriend.
While openly venting about the situation, Kenny quips:
 "Oh, God. Here we go. Webbed toes? Money problems? Or worse… bisexual?"
… sheesh.
In response to the dig, Ramirez tweeted:
Dear @ABCNetwork @TheRealONeals :own it,address it,clarify it,empower our #Queer #Bisexual youth & community w/accurate positive reflections

— Sara Ramirez (@SaraRamirez) February 16, 2017
And as someone who worked 4 them 4 10 years+,am truly disheartened & disappointed quite frankly.I will invest my brand where I'm respected. https://t.co/NQQAPDsFlU

— Sara Ramirez (@SaraRamirez) February 16, 2017
Shortly after Sara shared her thoughts on the situation, bisexual Evan Rachel Wood decided to jump in on the convo:
https://twitter.com/evanrachelwood/status/833829447505567745
Cut to this Tuesday and the actor who plays Kenny, Noah Galvin, sorta apologized for the gaffe. In a statement to Gay Star News, Noah explained:
"I think that it's important to know that these writers… they're writing an authentic teenager who is still learning and evolving and has never met a bisexual person in his life. I completely realize the crazy, crazy, large responsibility that we have as a show and all the good that we're doing… I think it's an important, awesome thing that we're doing – I hope people don't discredit that."
Well, this situation is definitely a reminder that the LGBT community still has a long way to go where it concerns thoughtful, positive, and accurate representation on TV.
Kristen Stewart To Star In Adventure-Thriller
K.Stew isn't slowing down in 2017! According to Deadline, the actress will star in Underwater, a flick about a scientific crew fighting for survival after an earthquake hits. In a not so shocking twist, the plot will take place … UNDERWATER. Stewart will play the character of Norah, a "hardened" yet brave woman who finds love with a fellow crew member.
TBH, I'd watch Stewart in any setting, whether it be in flipping outer space or hundreds of feet below sea level. Needless to say, I'm down.
Stats! Research!
According to a recent study, researchers determined same-sex marriage laws lowered suicide rates among LGBTQ teens. Translation: acceptance = better mental health. Crazy concept, right?!
In another study, researchers surmised that female hiring managers are more prone to employing lesbian and bisexual women. The reasoning is as follows:
"Because women experience discrimination and the glass ceiling in organisations, women may believe that gay and lesbian applicants must be more competent than equally qualified heterosexual applicants, in order to advance their careers."
Interesting…
Kate McKinnon & Hillary Clinton Might Actually Be BFFs
I saved the best for last!
Anyone who is a fan of Kate is aware of her AMAZING Hillary Clinton impression. The comedienne's Hillary skits on SNL were the only bright spots in the unbearable  2016 election and they'll go down in infamy alongside Tina Fey's 2008 reign as Sarah Palin.
While our political nightmare is far from over, I'm thrilled to report McKinnon met Hillary for dinner in REAL LIFE. The two were spotted dining at Orso in New York City last Wednesday, and an onlooker described the dynamic duo as "friendly". This is what fan fiction is made of, people!
The source went on to tell Page Six:
"They seemed very nice and friendly and had a quiet dinner. Somebody else in the restaurant came over and gave Hillary a hand-written letter."
Photographic evidence:
Hillary Clinton and the woman who plays her on SNL, Kate McKinnon, had dinner yesterday in the theater district https://t.co/A5t26SUUkP pic.twitter.com/6RqD5XZGNl

— Jennifer Epstein (@jeneps) February 17, 2017
God damn. To have been a fly on that wall… or a measly crumb on one of those plates.
Welp, that's it! See ya in the comments.