It's hard to believe Billie Jean King didn't already have her own action figure (this seems like a violation of the civil rights of all girls who grew up in the 70s) but the year is 2019 and history has been made. The former world-champion tennis star and winner of 39 Grand Slams now has a six-inch tall likeness, complete with her iconic round glasses.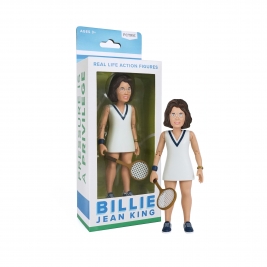 In the 1970s, Billie Jean King used her platform as a vocal and visible feminist, especially in her support of Title IX. Now she uses her platform to advocate for equal pay. Her organization, the Billie Jean King Leadership Initiative, works to improve equality and inclusion in the workplace through industry-leading research and education.
The Billie Jean King action figure is the product of a partnership between the Billie Jean King Leadership Initiative and Brooklyn-based toy company, FCTRY.
FCTRY will donate 5% of sales from each BJK Action Figure sold to the gender equality non-profit founded by King and her partner Ilana Kloss in 2014.
"This action figure is probably about 40 years overdue," says FCTRY's CEO Jason Feinberg. "Billie Jean King was just so ridiculously ahead of her time and I think people are finally realizing that now. She has been at the forefront of the fight for equal pay for years, and it's interesting to see that conversation once again take center stage—this time with BJK backing the U.S. Women's National Soccer Team."
"It is an honor to have an action figure in my likeness and to be part of the FCTRY collection alongside Ruth Bader Ginsburg and other powerful leaders," King said. "I hope this will help young people learn more about history and that it will inspire them to shape the future."
This isn't the first time FCTRY has made an action figure of a progressive icon with a cause. The company raised more than $600,000 on Kickstarter to create the Ruth Bader Ginsburg Action Figure in 2018. FCTRY donated a portion of the RBG proceeds to the non-profit She's The First, putting 11 girls through a year of school. Other action figure proceeds have gone to Border Angels and the ACLU.
Check out the Billie Jean King Action Figure here.