On November 15, 2017, Sydney Loofe, 24, went missing in Nebraska, after telling her friend she was going on a second date with a girl she met on Tinder.
Her friend, Terra Gehring, told Omaha's KETV News, "She texted me and told me about the date she had… how great it went. "She was excited to go on another date with her again."
Loofe was reportedly unaware that her date, Baily Boswell, 24, had a much older boyfriend, Aubrey Trail, 53.
Sydney Loofe was reported missing by her family on November 16, after she didn't show up for her shift at a home improvement store, and that same day, police got their first lead in the case—A landlord, who rented a basement apartment to Boswell and Trail, reported "a strong odor of bleach" coming from their residence. Knowing about Loofe's Tinder date, police executed a search warrant and determined someone had washed the walls. The couple adamantly denied knowing where Loofe was. On December 4, authorities found Loofe's dismembered remains in several garbage bags scattered along a road in rural Nebraska.
In February, Trail described how he killed Loofe, claiming it was an accident, stating, "It was suffocation"… "It wasn't meant that she was to die." He said his girlfriend, Boswell, was wiped out on drugs and outside of the room when Loofe died.
Newly released court documents reveal that Loofe died from "homicidal violence including strangulation." The affidavit was submitted to support charges filed on Monday against Trail and Boswell. The affidavit reads "During these interviews … he has acknowledged that he strangled her to death with an extension cord"…"He also stated that Boswell assisted in cleaning up the crime scene and assisted in disposing of Sydney's body."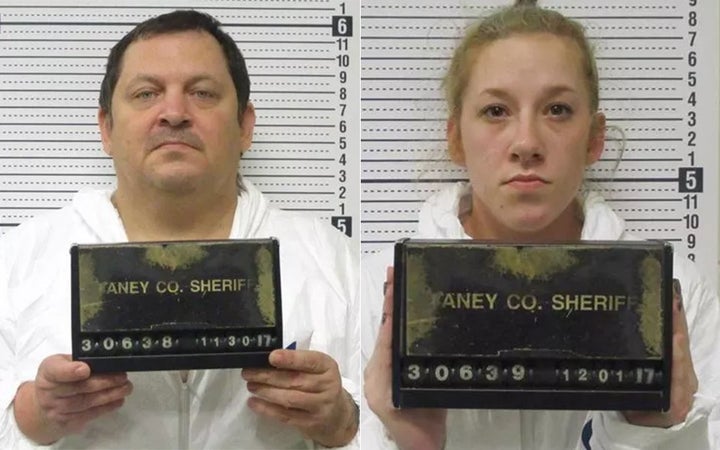 Aubrey Trail and Bailey Boswell, after Missouri arrest
 The affidavit states, "140 messages were exchanged between Sydney Loofe and Bailey Boswell between Nov. 11 and Nov. 15″… "The last message Boswell sent to Sydney occurred at 6:54 PM on November 15 … in which Bailey messaged that she was at Sydney's residence."
According to court documents, a Home Depot surveillance video captured Trail and Boswell purchasing items on the morning of November 15, which authorities believe would later be used in the victim's "dismemberment and disposal."
When lesbians are murdered, the media often obscures sexuality. Although there has been a great deal of media coverage, headlines and reports have largely avoided the word "lesbian." When this happens, as it so often does, there's a resulting lack of focus (with both investigations and media) on potential hate crimes… Even where, the murder is exceptionally horrific, as in this case, where the gruesome slaying of a young lesbian appears to have been premeditated.
Trail and Boswell have yet to enter a plea to the charges against them. A preliminary hearing has been scheduled for June 19.
---