Lesbians tend to have great taste in women because we like a girl's brain just as much as her body. (Well, most of the time.) Which is why this week's Huddle topic was pretty easy for us to answer: Who is your favorite female nerd?
Dara Nai: Lisa Simpson (smarter than everyone in the room, unironically plays the saxophone, one of the very few blonde nerds I can think of.); Danica McKellar (played a nerd on The Wonder Years, in real life, wrote books encouraging girls to embrace math — Math Doesn't Suck, Kiss My Math, and Hot X: Algebra Exposed.); Rachel Berry (talented, driven, insufferable, almost friendless, and neurotic, an outlier with a glittery vision board, but also hot enough to rock knee socks.); and Willow Rosenberg (the quintessential brilliant dork, duh.).

Photo by David Livingston/Getty
Bridget McManus: Noomi Rapace in The Girl With The Dragon Tattoo. I won't dare f–k with that computer hacker.
Karman Kregloe: Like her creator, Tina Fey, 30 Rock's Liz Lemon is the ultimate power dork. I love her because she's the head writer on her show, wrote lyrics to the song the cantina band plays in Star Wars ("Figrin D'an the Kloo horn man…") and can appreciate the verbal sparring skills of others even when she is on the receiving end of their jabs ("Alright that's a pretty good burn, Patrice.").
The "Reunion" episode of 30 Rock, in which Lemon attends her high school reunion and realizes that she was actually feared/loathed by the popular kids for her acerbic mockery, remains my favorite. Also, I'm pretty sure she invented self-high-fiving.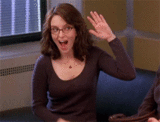 Marcie Bianco: I'm tempted to go with Karman's pick of Liz Lemon — because who doesn't like a dorky, compulsive nerd? — but I think I want to acknowledge a real person who has really profoundly, affected my life: preeminent feminist philosopher Elizabeth Grosz, who is as generous as she is intelligent.
Mia Jones: I'm not exactly sure how to define "nerd crush" because nerds are totally hot. I feel like my crushes are more hipster-blend nerds. Also, since I only know of them through the Internet, my crushes are sight unseen, just like that bizarre Married by America reality show from a million years ago. Wow that was a big build up to say my nerd crushes are @boobsradley and @lindseyweber. So nerdy that I only call them by their Twitter handles cuz I'm kinky like that.
Dorothy Snarker: Daria Morgendorffer — smart, sarcastic, cynical and all while wearing combat boots.
Emily Hartl: Ellen Page as Juno would have been my dream girlfriend in high school. I mean, you and I know she's rad as hell but to the rest of the school she's this weird knocked up girl that has like two friends. Be mine, Juno MacGuff.
Ali Davis: Velma Dinkley from the Scooby Doo cartoons was a huge formative nerd role model for me. Fred and Daphne can swan around grooming themselves and falling into open trenches all they want. It's Velma who does the real work of solving any mysteries that come up.
She taught me to stay alert and keep thinking, and that one day that weird topic you love but no one else about cares will come in handy – and might even get the latex mask peeled off of a crook.
And don't think her general lack of interest in male companionship escaped my notice. I think there's a little more mystery in the Mystery Machine than Shaggy realizes.
Velma's one vulnerability is her – swoon – thick square-framed glasses getting knocked off. But in these days of easy access to contact lenses, she'd be unstoppable.
Jill Guccini:What is the definition of a nerd, these days? Because you see, I see lots of sassy middle and high school students in my work wearing shirts that say "I LOVE NERDS" recently, and I always appreciate the sentiment while harboring a hunch that being a nerd has some new hip connotation I don't quite understand but don't want to delve into in case it disturbs me, which in general is my philosophy regarding pretty much anything I hear kids say or broadcast on T-shirts. Anyway, I am boiling it to down to the simplest equation where nerd = smart, and uh, I love all smart women. So. This is a bit stressful. Also, this huddle topic didn't specify fictional character or real life nerd, so I'm choosing one from each just to cover all my bases.
Fictional character: Obviously every cell in my body has the knee-jerk reaction to yell HERMIONE HERMIONE HERMIONE to this question, but if you don't already know why Hermione is the best of everyone ever then I can't help you. So to give another worthy nerd some play, I have to pick Paris Geller from The Gilmore Girls. Paris' hyper-neurotic-over-achiever lifestyle would stress me out to the max in real life, but on screen coupled with her constant razor-sharp wit, I can't get enough. If I could re-write Gilmore Girls to only include the best parts, it would be montages of Friday night dinners at the grandparents' house, breakfasts at Luke's, angsty Jess reading poetry and classic literature, and Paris, all the time. That's it. That's all you need. Seriously, everything about Paris Geller is perfect. I love her. I want her to follow me around and yell at me about how stupid I am and how she could do everything better than I'm doing it and than have her angrily make out with me.
Real life: Sarah Vowell. OK, I have to be honest and 'fess up that I haven't read any of her books, although there are a couple waiting on my bookshelf for me. But anytime I see her interviewed anywhere, I am suddenly 100% captivated by that distinct, weird, wonderful voice and all her perfectly deadpan dry humor. If you're not familiar with her, among other things she writes books about history that are funny. Wait, that sentence didn't properly convey how hot that is. Listen, if you are sincerely passionate about your lifelong commitment to the pursuit of knowledge in a field such as HISTORY, and you can explain all your Smart Learning Stuff in a really funny, human, interesting way, I will want to sleep with you. Also, just look at that author photo, with those sultrily sarcastic eyes and the slightest beginnings of a beautiful smirk. Let's get some beer and you can just tell me funny smart things and smirk at me all night, Sarah Vowell.

Photo by John Lamparski
Heather Hogan: Lucy Hallowell and I co-choose Hermione Granger, the brightest witch of her age! It's not just that she's read Hogwarts: A History six hundred thousand times, or that she brought along an entire library of books in an enchanted purse when she went off saving the world, or that she took Muggle Studies even though she's a Muggle, or that she used time travel to take every class offered at Hogwarts School of Witchcraft and Wizardry, or that she thinks homework planners make a lovely Christmas gift, or that exam hysteria made her hair even bushier. No, it's also that she's a House elf-loving, broken heart-mending, Neville-tutoring, Malfoy-walloping insufferable know-it-all with a Gryffindor heart of gold. She's not only the best nerdy fictional female in the history of ever. She's the best full-stop fictional female on every plane of the space-time continuum for all possible eternities. Amen.
Trish Bendix: I hope she doesn't take offense to being called a nerd, but my choice is Alison Bechdel. While some might say comics are inherently nerdy (or, at least, have gotten such a reputation) I find her more of a literary geek, like myself. We have similar obsessions with lesbian literature and being overly analytical. I would want to nerd out with her like no other.
The Linster: My UK Twitter buddy @andnowyoutellme keeps me up-to-date on British TV, particularly British TV starring talented women. So, when she sends me a link, I know I'm in for a treat. Her latest was this clip from Dr. Lucy Worsley's four-part BBC series, Harlots, Housewives and Heroines.
Lucy (I feel close enough to call her that) is Chief Curator at Historic Royal Palaces, the charity that looks after The Tower of London, Hampton Court Palace, Kensington Palace State Apartments, the Banqueting House in Whitehall, and Kew Palace in Kew Gardens. As she says, "Yes, this is a brilliant job, but no, you can't have it."
She, too, is brilliant – in every sense of the word. She went to Oxford and got her Ph.D. in art history at University of Sussex. Although preserving the history of Britain's palaces is quite serious work, Lucy's quirky sense of humor shines in her writing, speaking, and TV specials, and she uses her wit to educate. The closest American counterpart I can think of is Sarah Vowell.
Case in point: recently criticized for her comment that she had been "educated out of the reproductive function," she had this response:
Oh, golly! I was afraid there would be a queue of journalists outside my door at home, saying, "Look, it has come to our attention that you have maliciously refused to have children, so we've come round with a turkey baster and we're going to sprog you up now – our editor insists." I think there is still a significant fear of a woman who chooses to remain childless.
And thus, Lucy Worsley became my latest nerd crush. Spend some time reading her website for your own special nerdgasm.
Who is your favorite nerd?