Good afternoon everyone!
Happy birthday to Anna Faris, Janina Gavankar, Laura Marano and Diane Ladd!
Actress Janina Gavankar ("True Blood," "The L Word") in West Hollywood, CA



Photo by Michael Buckner/Getty Images
Wetpaint.com has compiled GIFs of all the Brittana kisses on Glee for your viewing pleasure. Unfortunately, there weren't that many to work with.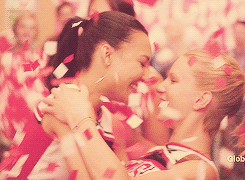 Supermodels Kate Moss and Naomi Campbell posed topless together for the December/January issue of Interview magazine. (And, yes, I removed Campbell's boobs for all your sensitive eyes.)
If you're a fan of Lily Tomlin then you'll be glad to know ABC has ordered five more episodes of her comedy series Malibu Country.
In the below video out artist Sia discussed writing the hit song "Diamonds" for Rihanna.
Sia also confirmed her feelings for Rihanna on Twitter.
i love @rihanna

— sia furler (@siamusic) November 29, 2012
If you wanted a tidbit about Chely Wright, here you go!
Random Fact: I flew in an F-15 over the peninsula of South Korea, pulled 9 G's and did not throw up.

— Chely Wright (@chelywright) November 28, 2012
The President of the Family Research Council, Tony Perkins, is supporting Ugandan President Yoweri Museveni, his anti-gay statements and the country's "Kill the Gays" bill. (What is wrong with people?)
Attention Las Vegas lovers! The 8th Annual Out Music Awards are being held at Planet Hollywood Resort & Casino on Sunday, December 16. So if "what happens in Vegas, stays in Vegas" does that mean the artists don't get to keep their awards?
Kerry Washington graces the cover of December's Women's Health magazine in a bad-ass tuxedo jacket. (Should someone tell her she forgot her pants? Awkward.)
On December 13 and 14 the Indigo Girls' Amy Ray will be doing a solo gig at Crimson Moon Cafe Concert Hall in Dahloenga, GA.
Check out this grimy (in a good way) photo of the band Sick of Sarah. Me likey!
Video of the Day!
Wherever Lady Gaga goes there is chaos. When Gaga arrived in South Africa her little monsters and numerous news cameras were in tow, all desperate for a piece of the superstar. (When I get off a plane I look like hell.)